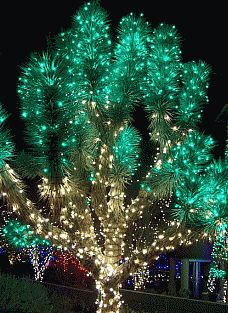 The cool, dry, desert air of the High Desert surrounding Palm Springs seemed more appropriate than the summer-like heat beating "down below." In short, my mother had come here to share the prosaic cluster of diversity in a rustic town that sits at a 3,000-foot elevation and is  named after the bristling Joshua Tree.  Joshua Tree  is more likely than Palm Springs to see a few centimeters of snow during the holidays. Mom  gave up her  heated kitchen in her New Hampshire restaurant to retire to the heated, arid land where my sister had staked out a living as a nurse.
In the Southern California "winter" during the holiday season, chilled cold beer is more common at celebratory events than hot chocolate. Outdoor barbeque on a penetrating  "chilly" night by Southern California standards was unlike anything our family experienced in our years in New Hampshire.
This night was more frigid, however, than anything else we had recently experienced. Winter holidays are supposed to be about celebration around a lit-up living room, and sometimes lit-up celebrants. Tonight, however, we had to speak of death.  Nearly 30 years after my mother had retired to the desert, she was dying.  My mother was the good shepherd of almost every Christmas past. She would do anything for a traditional celebration, not just on the typical Christmas Eve where we would sing Stille Nacht, Heilige Nacht (Silent Night) to celebrate the Christ child, but also celebrate all the children waiting for Kris Kringle as he approached our native Germany. Christmas Eve was only the beginning.  Christmas Day would follow, as would the "day after Christmas," December 26,  a legal holiday in Germany, which was also my mother's birthday. Nothing would deter my mother from this celebration.
On this eve of Christmas Eve, however, she was suddenly separated from her conscious self after taking a fall at home, a week before the holiday. On a telephone call to me in Seattle shortly after her fall, my mother said it was no concern, that surgery on her hip would not destroy Christmas, and there was no need for me to rush to the desert early.  Christmas would be celebrated as usual, she insisted.
Despite her assurance, I did rush to the desert and to the hospital where she was admitted.  As I entered the room, my mother posed the most devastating question to me ever. "Who are you?"  she asked.   A nurse told me that the loss of memory was not uncommon after surgery for a woman of my mother's advanced age.
Fortunately, my sister worked as an emergency room nurse at Desert Hospital in Palm Springs at the time.  My sister knew a lot about intensive care. She also knew a lot about planning for an advanced directive.  She had arranged for my mother to sign a living will and express her wishes for the end of life, at a time when my mother was still engaged in crossword and Sudoku  puzzles and able to serve her masterful Sauerbraten and Schwartzwalder Kirsch Kuchen on one of the German days of Christmas.
Not surprisingly, one of her wishes was to have one last  "Weinachten"  (Christmas) celebration no matter the time of year.  There was no doubt in our minds that the family would gather around the blinking lights of the hospital machine that monitored her blood pressure and heart rate on this actual Christmas Eve.  The hospital TV would provide other Carols as even I prepared to join in the German verses of Silent Night despite the fact that my mother asked for "no heroic measures" in her advance directive.  I held her hand as we sang.
Mom was near comatose for all three days of legal German Christmas.  It was nearly New Year's Eve before she could wake up and talk in a difficult voice. She recognized my face again, and apologized for "missing Christmas."  My mother survived almost long enough to see Spring of the new year.
When I think of this time,  I also think of the families portrayed in "Speaking of Dying."  Those final moments when a family member prepares to depart our midst  can be more difficult for those left behind than it is for those that are preparing for a different world.
One of my all-time favorite authors, Mark Twain, brought it down to a simple realization: "The fear of death follows from the fear of life. A man who lives fully is prepared to die at any time."   Being prepared is a proper path for all of us.  Even if  your last wish is one final Christmas.