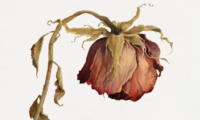 It is that awkward time between Dios de los Muertos and our traditional Thanksgiving feast. Here in the Pacific Northwest, we still have some memory of a recent sunny, beautiful day with moderate temperatures. Outside, however, there are rain-swept mosaics of red, orange and yellow leaves bearing the gasping last breath of nature's most beautiful portrait of death. It is nature's way of reminding us that death can be a many splendored thing and should come not as a grim reminder of the circle of life but as a harmonic convergence of all the saints departing from our midst and all the colors in the rainbow of opportunity yet to come. We come from dust and end in dust, and in between, like a leaf taking its final bow, we have left a mark—be it good or bad.
Human life deserves even more celebration than fallen leaves. Those final days when we take our place on the grass or feel the figurative equivalent of a loud leaf blower tormenting our decaying bodies, we deserve to spend our final days being loved, being celebrated, and allowed a gateway between our departure station and whatever awaits us. That is the reason we celebrate National Hospice and Palliative Care Month.
Imagine facing death like a 63-year-old cancer patient in Nashville, hearing the singing voice of a Vanderbilt Hospital nurse singing the gentle words and music of "Dancing in the Sky:"
Oh-oh, I,
I hope you're dancing in the sky
And I hope you're singing in the angel's choir
And I hope the angels know what they have
I'll bet it's so nice up in heaven since you arrived
Cancer perhaps does not have to feel as terminal when a human professional reaches out to you day by precious day with the sound of joyous words flowing through veins temporarily blocked from inconsolability.
Fortunately, we live in a nation where hospice care is the rule of law, if not always the rule of perfect practice. Hospice care is filled with loving, caring, and skilled experts standing by to help the terminally ill in their times of most need. Still, a recent Kaiser Health News analysis of 20,000 government inspection records reveals that missed visits and neglect are common for patients dying at home. Families or caregivers, shocked and angered by substandard care, have filed over 3,200 complaints with state officials in the past five years. Those complaints led government inspectors to uncover problems in 759 hospices, with more than half cited for missing visits or other services they had promised to provide at the end of life, KHN found. Industry officials, however, say the complaints are only a fraction of their industry's failures. "I would venture to say whatever measure you want to use, there are an exponential number of positive stories about hospice that would overwhelm the negative," Jonathan Keyserling, senior vice president of health policy at the National Hospice and Palliative Care Organization told Kaiser Health News. "When you serve 1.6 million people and families a year, you're going to have instances where care could be improved," he added.
There is at least one place here in the Pacific Northwest where hospice treatment is truly special. The Olympic Peninsula hospice is run with a special layer of care in the form of Rose Crumb. Crumb has provided volunteer hospice services to residents of the Port Angeles, Washington area since 1978. By offering her services, including the cost of hospice equipment for free to the terminally ill, she avoids the oversight of government regulators. Still, her manner, her caring, and a history of dealing with distraught AIDS patients at the beginning of that epidemic, has earned her a solid reputation for caring unmatched by for-profit competitors. In a health care world where the price of care is constantly on the rise, Crumb has remained a beacon of care in the small Pacific Ocean waterfront town .
Crumb, who is in her early 90s, may be approaching her own día de la muerte knowing that she has earned a place to dance with the angels in the sky. More than likely, someone in Port Angeles is waiting to offer to sing any song she wants to her for as long as she wants.