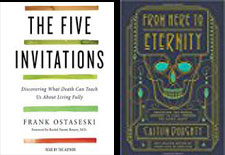 Books We are Reading in January 2018:
From Here to Eternity, Traveling the World to Find the Good Death—2017
By Caitlin Doughty
I have enjoyed this adventure into the world's often unknown customs to deal with human bodies after death. Caitlin begins with the beautiful open-air cremation practice in Crestone, Colorado, which was pioneered by a Buddhist friend of mine, Stephanie Gaines.
She quickly and humorously takes us to Indonesia, Mexico, Spai, Japan, Bolivia and two other American sites to witness rituals we may never have heard of or imagined. What I learned was that mourners everywhere seek ways to be present with their deceased loved one and to participate in the process. It is an easy book to read and empowers us to think outside of the box (or the casket!) The illustrations are worth the price of the book!
The Five Invitations, Discovering What Death Can Teach Us About Living Fully—2017
By Frank Ostaseski
This beautifully written reflection is a series of meditations and stories drawn from the author's many years as a Zen Buddhist hospice worker. He helps us to see the REAL in our daily, familiar circumstances and transforms any fears we may have about dying. He shows us how mindfulness is not about striving for perfection, but rather is a way to gradually "allow everything" , including our personality traits, our suffering, and even our death. I especially like his emphasis on listening to stories, our own and others. His teaching about impermanence is grounded in real life and death experience. I think you might enjoy this calm and calming book.